You are here:
German Courses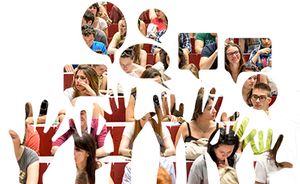 The German courses of the University of Vienna are available to all learners above the age of 16.
There are no formal requirements (e.g. high-school graduation diploma, enrollment certificate from a tertiary education institution, etc.) for participation in a language course at the Language Center of the University of Vienna.
Numerous participants take German courses in preparation for programs of study at Austrian universities; others attend summer courses and subsequently decide to stay on and study in Vienna.
Should you have received admission to one of Vienna's universities already and be obliged to pass the supplementary examination in German (EPD), you are very welcome to join our German courses for the University Preparation Programme (VWU).
Courses and Program for Learning German
The Course Program 2023 (pdf) includes a wide range of courses with different intensity and duration throughout the year:
We now offer most of our German as courses online as e-courses and offline on campus.
This means that you can learn German comfortably from home or in our classrooms at our premises:

Courses at the Language Center of the University of Vienna are structured in eleven different course phases (from A1 to C2, in accordance with the Common European Framework of Reference for Languages, CEFR), which assures international comparability.
Alongside standard language courses, specialized courses – such as phonetics or grammar coaching – are also offered at our premises on the University campus, as well as one-on-one instruction.
Furthermore, the Language Center is a certified examination center for the Austrian Language Certificate ÖSD [Österreichisches Sprachdiplom Deutsch].
Instruction
Our high-quality instruction guarantees optimum learning success by means of state-of-the-art language teaching methods, anchored in the latest scientific standards, teambuilding and customer orientation.
Round eighty dedicated lecturers with well-grounded, expert education and extensive teaching experience accompany our participants along their learning process. Communicative, learner-orientated teaching methods smooth the way towards maximum learning progress. Moreover, the multicultural atmosphere facilitates not only language learning, but also building and cementing friendships with people from all over the world.
Comprehensive placement tests ensure that our course participants can be assigned to the appropriate course level. These tests are mandatory for new customers.
Exception: No placement test is required for
beginner students at the A1/1 level
participants who have previously attended German courses at the Language Center
participants who can produce an ÖSD or Goethe certificate acquired within the last 12 months. Please note that in order for the certificate to be accepted the scores for each of the four language skills (listening, reading, writing and speaking) must be at least 80%.
Please find information on tuition fees in our course calendar.
Examination fees are included in the tuition fees.
Textbooks, which are not included in the tuition fees, are available at the bookstore Facultas on the campus.
Please find information on discounts here.