You are here:
Individual Instruction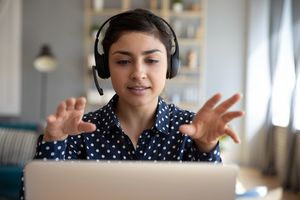 With the one-to-one language training, we offer a customized language-training program tailored to your personal goals.
Your private language instructor will guide you live through the face-to-face lesson.
We offer online and offline individual instruction in German and 37 other languages. If you are interested, please save this form on your device and send the completed form as an attachment to sprachenzentrum@univie.ac.at (Subject: Inquiry individual instruction).
If you are interested in on-site training, we will be happy to send you the price upon request.
Unfortunately, we cannot provide quotes for individual tuition for AMS or waff.
One-on-one instruction offers you a maximum of flexibility and individuality, regarding the course content, location and timing.
We are happy to tailor a course program based on your current language proficiency.
You can decide whether you would like to improve general language skills or focus on specific topics and/or skills.
We have collected some ideas for you:
Online coaching: help with and training of specific sills on all levels; specific training for advanced speakers (C1/C2)
Training in various areas of written communication
Presentation and argumentation skills
Conversation
Pronunciation
Preparation for job interviews, help with motivation letters and CVs
Exam preparation (e.g. ÖSD-German exams)
Specific purposes: Academic Skills, Digital Media, Marketing, Business, Diplomacy and many more
Regular Prices for one participant
Online-Package:
10 units for 870 EUR
20 units for 1740 EUR

Single price per unit for online and on-site training:
1 unit: 87 EUR

Regular Prices for technical language or two participants
Online-Package:
10 units for 970 EUR
20 units for 1940 EUR

Single price per unit for online and on-site training:
1 unit: 97 EUR
1 unit = 45 minutes
Technical requirements for online instruction
Stable internet connection (10 MBit/s Download, 5 MBit/s Upload, check your connection here: https://www.speedtest.net),
microphone + speakers / headphones and a webcam.
Nowadays, computers usually come with a camera, microphone and speakers.

You can certainly also use a smartphone or tablet in order to join our lessons.
For courses focusing on writing skills, we recommend using a device with a keyboard.
Appointment cancellation - up to 24h in advance
If you have made appointments for individual lessons with a trainer, we ask you to cancel the appointment in good time if you are unable to attend: Appointment cancellations are accepted up to 24 hours in advance!
Please send your written cancellation to you teacher and sprachenzentrumsymbolunivie.acpunktat (in cc).
Appointments that are not canceled up to 24 hours in advance will be charged in any case. Even if they do not take place!