You are here:
Foreign Language Courses
Foreign Language Courses
at the Language Center of the University of Vienna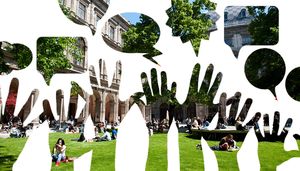 With a view to promoting lifelong learning, the Language Centre of the University of Vienna offers language education not only to students and University employees, but to all interested parties above the age of 16. The University of Vienna thus opens its doors to everyone who wishes to learn a new language or enhance their previously acquired language skills – from school age to retirement age. There are no formal requirements (e.g. high-school graduation diploma, enrolment certificate from a tertiary education institution, etc.) for participation in a language course at the Language Centre of the University of Vienna.
Albanian, Arabic, ÖGS Austrian Sign Language, BCMS (Bosnian/Croatian/Montenegrin/Serbian), Bulgarian, Croatian, Czech, Danish, Dutch, English, Farsi, Finnish, French, Georgian, Greek, Hebrew, Hindi, Hungarian, Italian, Japanese, Korean, Kurdish, Latin, Macedonian, Norwegian, Pashtu, Polish, Portuguese, Romanian, Russian, Swedish, Slovak, Slovenian, Spanish, Turkish, Ukrainian, Uzbek
According to your personal learning preferences, you can choose between different courses.
The Foreign Languages Courses take place either online as e-courses or offline at our premises:

Furthermore we offer several specialized courses:
Please find an overview on all our courses in the Course Program 2023-24 (pdf).
Our high-quality instruction guarantees optimum learning success by means of state-of-the-art language teaching methods, anchored in the latest scientific standards, teambuilding and customer orientation. All course levels offered are aligned with the level descriptions of the Common European Framework of Reference for Languages (CEFR) to ensure international comparability.
Our courses differ in both level and specialisation: in addition to general-language courses, we offer courses geared to specific skills and/or professional requirements, see "English for Specific Purposes".
Furthermore, our range of services includes preparation courses for standard language tests, and for stays abroad within the framework of university mobility programs. The Language Center also organises examinations for language competency certificates (e.g. for ERASMUS). For details, please visit "Language & University"
Prior to course commencement, the Language Center offers assessment tests.
Self-assessment is also possible, based on the Common European Framework of Reference for Languages (CEFR) level descriptions.
Registration can be carried out online or directly at the office of the Language Center of the University.